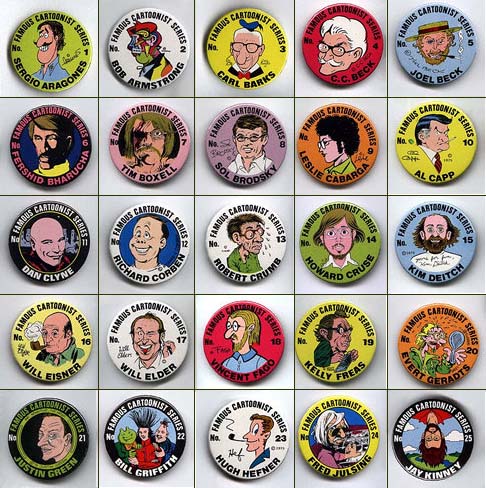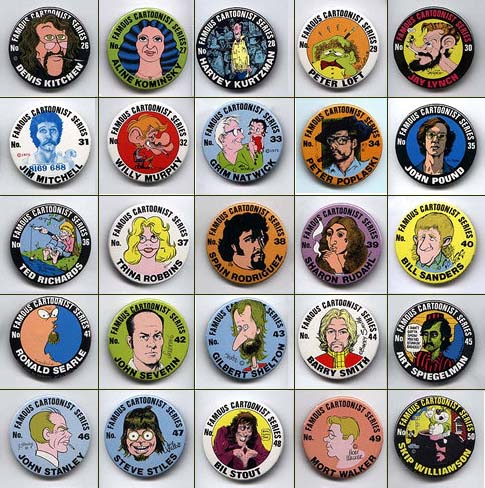 ABOUT THE BUTTONS:
1. Sergio Aragones is most famous for his longtime "marginal" and other contributions to MAD and his award-winning Groo comic book series. Aragones, a native of Mexico, is one of the most popular cartoonists in the world. Dominant winner in the annual Harvey and Eisner awards' Humor category.
2. Bob Armstrong. In underground comix circles, Armstrong is best known for his Mickey Rat series and smart contributions to Snarf, Comix Book and Arcade. Also a versatile and accomplished musician, Armstrong was a member of R. Crumb's Keep-On-Truckin' Orchestra and the Cheap Suit Serenaders. His uncredited haunting musical saw solo can be heard at the beginning and end of the film One Flew Over the Cuckoo Nest. But Armstrong's most famous creation came after this button set and has nothing to do with either comix or music: he invented and trademarked the now ubiquitous TV watching phrase "Couch Potato." This multi-faceted career may help explain his cubist self-portrait.
3. Carl Barks (1900-1999) had an extremely long and distinguished career but he will always be best known for his beloved Uncle $crooge comic books, which have entertained several generations internationally. Note that Barks' self-portrait, drawn three-quarters through his long life, depicts himself wearing Donald Duck's sailor cap and shirt top. Barks was also not too vain to include his hearing aid.
4. C.C. Beck. Most famous as the primary artist on the enormously popular original Captain Marvel comic books in the 1940s. Later in his career he created the brief Fat Man, the Human Flying Saucer comics, and later yet became known as a self-described industry curmudgeon.
5. Joel Beck. Beck, who died in 2000, is credited by some as being the very first underground cartoonist. His Marching Marvin, Lenny of Laredo and The Profit (the title parodies Kahil Gibran's The Prophet) in the mid and late '60s, were certainly among the very first. He also contributed to Bizarre Sex, Snarf, Dope Comix, Comix Book, Banzai! and many other undergrounds before his untimely death.
6. Fershid Bharucha. A native of India, Bharucha became a French citizen and there established himself as a comic artist, editor and publisher. For years he introduced top American artists to Europeans with his USA Special magazine. He published handsome hardcover French albums featuring Will Eisner, Mark Schultz, Rand Holmes, Shary Flenniken, Bernie Wrightson and many others. His own art appeared in early issues of the American underground comic Bizarre Sex.
7. Tim Boxell. As his mutilated self-portrait suggests, Boxell was known for gory and grotesque imagery, An early midwest underground cartoonist, Boxell contributed frequently to the horror anthology Death Rattle as well as Bizarre Sex and Snarf. He named and edited and contributed to the anthology Commies From Mars. Boxell left underground comix and the midwest to become an animator in San Francisco.
8. Sol Brodsky. A journeyman artist who created numerous stories and covers for the Atlas line in the 1950's, Brodsky is perhaps best-known for creating the earliest Big Boy Comics. He was Stan Lee's production manager at Marvel Comics when he drew this self-portrait.
9. Leslie Cabarga. Cabarga's varied art career has taken him from underground comix (Comix Book, Snarf, Dope Comix) to record albums and magazine illustration. He has also created and marketed many distinctive type fonts. But he is probably best known as being the contemporary interpreter of Betty Boop. Cabarga has produced the definitive images for several Betty Boop signs, the Paper Moon greeting cards, and numerous other Boop products. He also authored and designed The Fleischer Story, a history of the studio that created the classic 30s and 40s Betty Boop, Popeye and Superman animated cartoons, Cabarga has authored numerous other books on vintage letterheads, typography, and classic design. His father was Will Eisner's art director during Eisner's publishing career.
10. Al Capp. Arguably the most famous and certainly the most visible cartoonist of all time, Capp's Li'l Abner strip(1934-1977) reached an audience of 80 million readers daily. His introduction of the popular Shmoo into Abner created a merchandising phenomenon in the late '40s and early '50s. The eventual marriage of Li'l Abner and Daisy Mae in 1952 made headlines and the cover of Life magazine. Capp himself was a cover feature in both Time and Newsweek. Besides his hugely successful comic strip Capp twice had his own network TV show, his own syndicated radio program and a newspaper column. The entertaining and acerbic satirist was a frequent guest on Johnny Carson's Tonite Show and other talk shows, a rarity for cartoonists. Li'l Abner was adapted into a long-running Broadway musical and two films (1940, 1959). Fearless Fosdick, The Kigmy. Lower Slobbovia and the still-celebrated Sadie Hawkins Day are among his other lasting creations. Though his deep laugh was a trademark, this scowling self-portrait typifies the curmudgeonly and controversial persona of his late career.
11. Dan Clyne. Though his pointed ears suggest a character from Star Trek, this Chicago underground cartoonist was mainly known for his character Hungry Chuck Biscuits, a rather grotesque teenager who suffered from worms and other disorders. After his one-shot title plus appearances in Snappy Sammy Smoot and Teen-Age Horizons of Shangri-La, his character was well-enough known to be parodied as "Hungry Melvin Biscuits" in color in Bijou #8. Clyne's brief career in undergrounds ended and he began a successful and much longer career as a commercial illustrator.
12. Richard Corben. This early underground cartoonist is famous for the buxom, heavily muscled and often unclothed characters that inhabit his lush science fiction landscapes. Corben's creations include Den, Fever Dreams and Jeremy Brood. He also contributed to Slow Death, Bizarre Sex, Snarf and other undergrounds. A frequent contributor to Heavy Metal and Warren magazines, Corben was one of the artists adapted in the animated first Heavy Metal film.
13. Robert Crumb. The most famous underground cartoonist has evolved into an international art figure. Crumb's Zap triggered the underground comix explosion in 1967. Mr. Natural, Home Grown, Snoid, Weirdo, Hup, and Devil Girl followed. Terry Zwigoff's documentary film, Crumb, made most critics' top ten lists in 1995 and cemented the artist's fame. The definitive R. Crumb Coffee Table Art Book followed in 1997. This 1975 self-portrait button has a white background. An otherwise-identical alternative version with a green background (created as part of the series in 1975) is also available. A number of other Crumb buttons are available from Steve Krupp's Curio Shoppe.
14. Howard Cruse. A frequent contributor to the underground anthologies Snarf, Comix Book, Bizarre Sex and Dope Comix, Cruse also created two solo issues of Barefootz. The first openly gay cartoonist, Cruse edited and contributed to Gay Comix during its early years. His syndicated Wendel strip has been collected in comics and book formats. His magnum opus, Stuck Rubber Baby, was published by a division of DC Comics to critical acclaim.
15. Kim Deitch. A pioneer underground cartoonist, Deitch cut his teeth on the NYC comix tabloid Gothic Blimp Works and he contributed to such early titles as Thrilling Murder, Corn Fed and Banzai. His work is in the anthologies Arcade, Comix Book and Zero Zero. Kim's brother Simon is also a cartoonist and his father Gene was the animator who created the '50s classic Gerald McBoing Boing.
16. Will Elder. One of the true funny men of comics, Will Elder was a principle contributor to the original MAD and other classic E.C. humor and adventure titles. He left MAD with his longtime friend and collaborator Harvey Kurtzman to work on Humbug, Trump and Help! In the latter magazine he drew "Goodman Beaver" which evolved, strangely enough, into "Little Annie Fanny." For over twenty-five years, he and Kurtzman produced the erotic and lavish satire strip for Playboy.
17. Will Eisner. A true pioneer, Will Eisner was present at the birth of the comic book industry in the mid '30s, where he created Hawks of the Seas; Sheena, Queen of the Jungle and Blackhawk at Eisner & Iger and Quality Comics If Eisner had just created the innovative newspaper insert The Spirit (1940-1952) he would have secured a place in comics history. But he also pioneered the use of educational comics with his P*S magazine for the U.S. Army during World War II and continued overseeing it, and other educational comics, for many years. And in 1978 his ground breaking graphic novel, A Contract with God, triggered a new revolution in comics storytelling and format. Eisner created an additional fifteen acclaimed graphic novels for Kitchen Sink Press, DC Comics and Dark Horse. He continues to create new work as an extremely active octogenarian. One of the industry's two most prestigious awards is named after him.
18. Vincent Fago created the 1950s character, "The Checkered Pup," drew "Peter Rabbit" (inherited from Harrison Cady) and other funny animal comics and strips. Briefly had his own Fago publishing imprint in the '50s.
19. Kelly Freas. An accomplished and prolific science fiction illustrator, Kelly Freas is perhaps best known for his distinctive Alfred E. Neuman MAD covers and MAD advertising parodies.
20. Evert Geradts. A top Dutch underground cartoonist (in a country disproportionately full of cartoonists), he contributed to and (with then-wife Leny) edited Tante Leny Presents, an important publication in the development of European undergrounds. Geradts also frequently contributed to American comix anthologies such as Dutch Treat, Snarf, Bizarre Sex and Dope Comix. He has since moved to France, where he now draws mainstream comics.
21. Justin Green. Green's painfully autobiographic comic, Binky Brown Meets the Holy Virgin Mary, became a cult classic and had a deep influence on the field. He has long been a cartoonist admired by other cartoonists but unable to earn a living completely from comics. Consequently much of his career has been spent as a sign painter (which led to an ongoing comic strip about sign painting). He contributed to Arcade, Shangri-La, Snarf, Comix Book, Yellow Dog, Dope Comix, Young Lust and other undergrounds. He is clearly a sensitive artiste: note the tear in his eye! We also have Green's '70s "Smoking Causes Cancer!" button.
22. Bill Griffith. He broke into underground comix with Mr. Toad but "Griffy" found his calling with that master of non sequiturs, Zippy the Pinhead. Both characters pose beside the artist on this 1975 button. "Zippy" now appears as a daily strip in newspapers across the country. Griffith also co-founded the anthologies Arcade and Young Lust. Griffith's wife Diane Noomin is also a cartoonist (Didi Glitz and Twisted Sisters).
23. Hugh Hefner is certainly best known as the founder and editor of Playboy and bon vivant, but Hugh Hefner began his career as a cartoonist and couldn't resist the urge to contribute to this button series. Next to women, Hefner likes cartoons best, which explains why "Little Annie Fanny" (Kurtzman & Elder) and other top cartoonists have regularly appeared in his magazine.
24. Fred Julsing. A top Belgian cartoonist.
25. Jay Kinny. Kinney created the early fanzine Nope which connected him to fellow underground cartoonists Jay Lynch and Skip Williamson and an appearance in the first Bijou Funnies. He later created or co-created such undergrounds as Young Lust, Anarchy and Cover-Up Lowdown. Kinney left the comic book field and founded the spiritual magazine Gnosis, which may explain why his head is in the clouds in this prescient self-portrait.
26. Denis Kitchen. Though probably best-known as the founder and publisher of Krupp Comic Works and Kitchen Sink Press (1969-1999), Kitchen began as a cartoonist (Mom's Homemade Comics, The Bugle) before various businesses pulled him from the drawing board. He found time to edit and contribute to such anthologies as Snarf, Bizarre Sex, Dope Comix and Comix Book as well as contribute to publications as diverse as Playboy, Arcade and The Badger. He also created the character Steve Krupp (though Krupp makes a contradictory claim). Kitchen's newest work, in Dark Horse's Maverick 2001 Anthology, features Steve Krupp in a guest appearance as God.
27. Aline Kominsky (a.k.a. Kominsky-Crumb) created the autobiographical solo comix Power Pak 1-2 for Kitchen Sink. She co-created Dirty Laundry 1-2 for Last Gasp with husband R. Crumb. She contributed to and edited Weirdo toward the end of its lengthy run and has contributed to numerous comix anthologies, including Twisted Sisters.
28. Harvey Kurtzman is one of the seminal figures in comics history. He created and contributed heavily to the revolutionary Mad, then left that very successful comic and magazine to produce the slicker but short-lived Trump for Hugh Hefner. Eleven issues of the low-rent but memorable Humbug followed in 1958, followed by Help! a magazine he created for publisher Jim Warren. For the latter magazine alone Kurtzman discovered such diverse talents as Gloria Steinem, Terry Gilliam, Jay Lynch, Skip Williamson, Gilbert Shelton and Robert Crumb. "Goodman Beaver," the leading feature in Help!, evolved into the cross-gender "Little Annie Fanny." From 1962-88 Kurtzman focused on the lavish and sexy satire strip for Playboy (with Will Elder). One of the industry's two most prestigious awards, the Harvey, is named for Kurtzman. This self-portrait shows him with a class at NYC's School of Visual Arts, where he taught for several years. A new Kurtzman book, The Grasshopper and The Ant, was published in 2001.
29. Peter Loft contributed memorable stories and strips to Snarf, Bizarre Sex, Smile, Consumer Comix, Comix Book, Bizarre Sex and other underground comix, as well as covers and strips for the midwest underground newspaper, The Bugle. Frogs were a frequent component in his strips and covers, and are reflected in his whimsical self-portrait. With charming characters such as Vincent the Teabag and Flooty the Turtle, Loft would no doubt have had a very successful career as a cartoonist but before peaking he moved to Europe and changed careers, becoming involved in the computer industry.
30. Jay Lynch began his professional career with contributions to Harvey Kurtzman's Help! Lynch co-founded, edited and contributed to Bijou Funnies, one of the earliest underground comix. His most famous characters, "Nard n' Pat" appeared in two solo comix, Bijou and assorted anthologies. Pat [the Cat] can be seen coming out of Lynch's nose in this self-portrait. Lynch wrote the long-running Phoebe & the Pigeon People strip (illustrated by Gary Whitney), collected into three comic books. Lynch is largely responsible for Topp's hugely successful "Wacky Packs" as well as uncredited work on "Bazooka Joe" comics and many other examples of pop culture effluvia.
31. Jim Mitchell created "Smile," a cute and upbeat strip in the otherwise largely cynical and dark world of underground comix. His strips (and covers) appeared in The Bugle, three issues of Smile and other comix. Mitchell's promising comics career was cut short by a lengthy prison term in a Mexican jail, reflected in this sorrowful self-portrait done as a mug shot. Two of the his "Smile" characters peek over his shoulder with uncommon frowns.
32. Willy Murphy. One of the funniest of the underground cartoonists, Murphy's strips appeared in Arcade, Comix Book and solo issues of Flamed-Out Funnies. His promising career was cut short by a sudden and untimely death.
33. Grim Natwick was a pioneer animator who created the immortal "Betty Boop" for Max Fleisher's studio. Thus Betty is perching on Grim's shoulder. Natwick was responsible for animating the central figure Snow White in Disney's epic Snow White and the Seven Dwarves. Natwick continued to work well into his late 80s.
34. Peter Poplaski. Perhaps the most versatile artist in the field, Poplaski's own style can be seen in Quagmire, The Bugle, Death Rattle and Corporate Crime to Consumer Comics. But his chameleon talent has given him a reputation as the best mimic in the business. He has convincingly ghosted talents as diverse as Al Capp, Joe Shuster, Harvey Kurtzman, Dick Sprang, Bob Kane, Keiji Nakazawa and C.C. Beck in covers for Li'l Abner, Superman: The Sunday Classics; Superman: The Dailies; The Spirit Jam; Batman: The Sunday Classics; Batman: The Dailies; Gen of Hiroshima and a recent story for Tom Strong. He made a guest appearance as Zorro in R. Crumb's Hup. Kitchen Sink Press' longtime art director, Poplaski has edited and designed publications ranging from Steve Canyon to The R. Crumb Coffee Table Art Book. Poplaski is also a fine art painter in the classic tradition, which is why his self-portrait sports a hat (and cigar) in the style of the Dutch masters.
35. John Pound appeared regularly in undergrounds, doing covers and stories for Snarf, Bizarre Sex,, Dope Comix, Death Rattle, Comix Book and others. His most visible creation is no doubt Topps' "Garbage Pail Kids" cards, a savage parody of the once ubiquitous Cabbage Patch Kids.
36. Ted Richards created such characters and underground comic books as E.Z. Wolf, The Forty-Year-Old Hippie and Dopin' Dan, mostly for Rip Off Press. He also contributed to Comix Book and other titles.
37. Trina Robbins was the first woman to gain notoriety in the male-dominated underground comix world with It Ain't Me, Babe. She contributed to Gothic Blimp Works, Yellow Dog, Bizarre Sex, and Comix Book, and edited and contributed to Wimmens Comix and Wet Satin. For major companies DC and Marvel, Trina worked on Wonder Woman and Misty among others. She wrote three books on comics history: A Century of Women Cartoonists and The Great Women Superheroes for Kitchen Sink Press and Girls to Grrls for Chronicle Books.
38. Spain Rodriguez. An early underground artist best known for the anarchistic Trashman, Spain has also been a regular contributor to the respected anthologies Zap and Blab! Early work appeared in Gothic Blimp Works and Yellow Dog.
39. Sharon Rudahl. One of the earliest women in the underground comix field, Rudahl's work appeared in Wimmens Comix, Snarf, Bizarre Sex, Dope Comix, Wet Satin and Comix Book. Her single solo comic was Crystal Night.
40. Bill Sanders. Sanders is the only political cartoonist represented in the Famous Cartoonist Button Series. Working out of his home base at the Milwaukee Journal, Sanders' acerbic cartoons were widely syndicated to other newspapers till his retirement around 1990. In his only foray into the comic book world, Sanders created politically oriented pages for the Marvel experiment Comix Book in 1973-74.
41. Ronald Searle. Searle risked execution during three and a half years at a Japanese death camp in Burma during World War II by making drawings of his captors and hiding them under the beds of dying cholera victims. The British satirist and illustrator is most associated with the humor magazine Punch but has appeared in The New Yorker and many other publications. Tom Wolfe calls him a modern day Aubrey Beardsley.
42. John Severin is best known as one of the talented core that made E.C. comics justifiably famous. His sister Marie was also a part of the E.C. team. He is particularly respected for the authenticity of his western stories. In later years Severin was a regular contributor to Cracked. He has recently contributed to DC Comics.
43. Gilbert Shelton started drawing "Wonder Wart Hog" for his college satire magazine in Austin TX, but his big break came when Harvey Kurtzman placed the Hog of Steel in Help! magazine in the early '60s. Shelton then moved to San Francisco and created the most popular of all underground comic characters, the "Fabulous Furry Freak Brothers." Shelton's work has also appeared in Rip Off Comics, Playboy, and Zap.
44. Barry [Windsor] Smith. A member of "The Studio" with Bernie Wrightson and Mike Kaluta, Windsor-Smith initially achieved comics fame adapting "Conan the Barbarian" for Marvel. He has maintained a foot in the fine art world but recently returned to comics with ambitious projects for Dark Horse Comics and Fantagraphics.
45. Art Spiegelman. One of the earliest underground cartoonists, Spiegelman appeared in East Village Other, Phucked-Up Funnies, Funny Aminals, Bizarre Sex and Snarf. He co-founded the magazine Arcade, then launched the artsy oversize Raw magazine, where he serialized chapters of his "Maus," the story of his father's ordeals in Nazi Germany and simultaneously Art's relationship with his father. The Maus collection from Pantheon Books won an unprecedented Pulitzer Prize for a graphic novel and launched Spiegelman into a new literary climate. He currently contributes regularly to The New Yorker and creates and edits children's books such as Little Lit and I Am Not a Dog. Spiegelman's button gag references a famous line in the Bogart/Ford film, Treasure of the Sierra Madre.
46. John Stanley. Like his contemporary Carl Barks in the 1950s, John Stanley toiled anonymously on a classic comic book, Little Lulu, without any credit. Disney got credit for Uncle $crooge and "Marge" got credit for Little Lulu, though she created only the Saturday Evening Post gag panel, not the wonderful comic book series. And, unlike Barks, Stanley is still largely forgotten outside the cognoscenti. Stanley is also responsible for another shorter lived classic, Melvin Monster. In his self-portrait Stanley looks like he could be a villain by Chester Gould.
47. Steve Stiles. A prolific and versatile cartoonist, Stiles contributed to every Kitchen Sink anthology (Dope Comix, Death Rattle, Snarf, Bizarre Sex and Comix Book) as well as Last Gasp's Anarchy Comics and various stints at Marvel and larger companies. He produced one solo comic, Hyper. Stiles also illustrated the back-up stories for Mark Schultz's Xenozoic Tales.
48. Bil Stout created a variety of outstanding underground comix covers, such as Weird Trips #2 (Ed Gein), Bizarre Sex #10, '50s Funnies, Bicentennial Gross-Outs and Slow Death #10. He is probably best known for his renderings of prehistoric creatures, including the book Dinosaurs, and his haunting paintings of Antarctica. Stout art directs in the film industry and did designs for the French Disney World. Most of his current work is outside the world of comics.
49. Mort Walker. One of the most successful and prolific of contemporary strip artists Walker created the widely-syndicated "Beetle Bailey" a half century ago. He is also responsible for "Hi and Lois," and "Boner's Ark" and founded the Cartoon Art Museum, currently in Boca Raton, FL.
50. Skip Williamson got his start in Harvey Kurtzman's Help! magazine. He co-founded Bijou Funnies with Jay Lynch. Williamson's "Snappy Sammy Smoot" was one of the more street smart, trippy and politically charged of underground comix features. Williamson also worked as an art director at Playboy, contributing "Neon Vincent" to the "Playboy Funnies" section.
51. Gahan Wilson is best known for his generally macabre gag cartoons in Playboy, The New Yorker and other leading magazines. He also created the feature "Nuts" for National Lampoon, appeared in Kurtzman's Help! and has had several book collections.
52. Basil Wolverton began in the "Golden Age" of comic books doing features like "Powerhouse Pepper" and "Spacehawk" in the 1940s. His first headline came in 1948 when cartoonist Al Capp held a contest in his popular "Li'l Abner" strip, challenging readers to submit rendering of "Lena the Hyena," the world's ugliest woman. The highly publicized contest inspired tens of thousands of submissions. Capp persuaded fellow celebrities Boris Karloff, Frank Sinatra and Salvador Dali to help him judge the contest. Basil Wolverton won. He subsequently worked for comic magazines ranging from Mad to Plop! to Comix Book. He self-published a pamphlet called Barflyze. Late in his career he worked on an ambitious and eccentric project illustrating The Holy Bible.
53. Neal Adams. Adams' energetic and contemporary style injected new life into DC characters such as Green Arrow and Batman in the 1970s. He developed a studio around his distinctive style and became very successful providing commercial art services utilizing a comic book look. His Continuity Studio also begat a comic book publishing company, sometimes called "Neal's Folly," which didn't fare nearly as well. Adams, when not drawing, is an amateur physicist with controversial views about the basic elements that make up our universe.
54. Rick Meyerowitz is best known for his covers (such as Mona Gorilla) and satirical comic strips for National Lampoon. He is primarily a commercial illustrator with a love of comics.