R. Crumb's DEVIL GIRL™ HOT KISSES - Carton of 12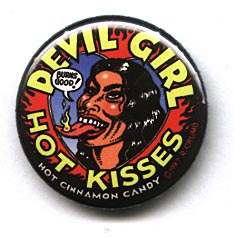 - Plus Pinback Button!
Buy eleven tins and get the 12th tin FREE plus receive the Crumb-designed Point-of-Purchase Counter Display plus get a FREE promotional Devil Girl Hot Kisses pinback button! Just $43.89 for this 12-tin display & button set. Comes shrink-wrapped in mint condition.
* * *
Hot but cool! This tart heart-shaped cinnamon candy comes in a nifty round tin designed by underground cartoonist Robert Crumb. The 3-inch diameter metal container is silkscreened with an image of Devil Girl, whose legendary tongue is impervious to the flaming hot candy. Filling the circumference of the tin is Crumb's hand-lettered slogan, "Have Yourself a Sweet 'n' Hot Little Suck!" This isn't one of those really thin throwaway tins, such as Altoids. This is a heavy gauge metal box. After you consume the candy contents you also have yourself a nifty little container to hold any manner of odds and ends. Our Amsterdam distributor tells us his customers use the empty containers as a "stash" box.
Related Items--- Robert Crumb has ix-nayed bringing back the legendary Devil Girl candy bars themselves, but we still have some mint condition empty boxes from Kitchen Sink's long out-of-production Devil Girl Choco Bars. These mid-'90s heavy-duty displays are styled after old-fashioned cigar boxes. They can serve to contain serious quantities of odds n' ends, whether for the top of your dresser or for private items stashed in the back of your underwear drawer. Some customers report using these as decorative gift boxes for special hip friends! We also have the Crumb's Devil Girl Choco-Bars Pinback Button and many other esoteric Crumb items (comix, postcards, books, buttons, posters, 78 rpm records, S&N'd serigraphs, Mr. Natural boxes) you won't find anywhere else (just type "Crumb" into our search bar]!